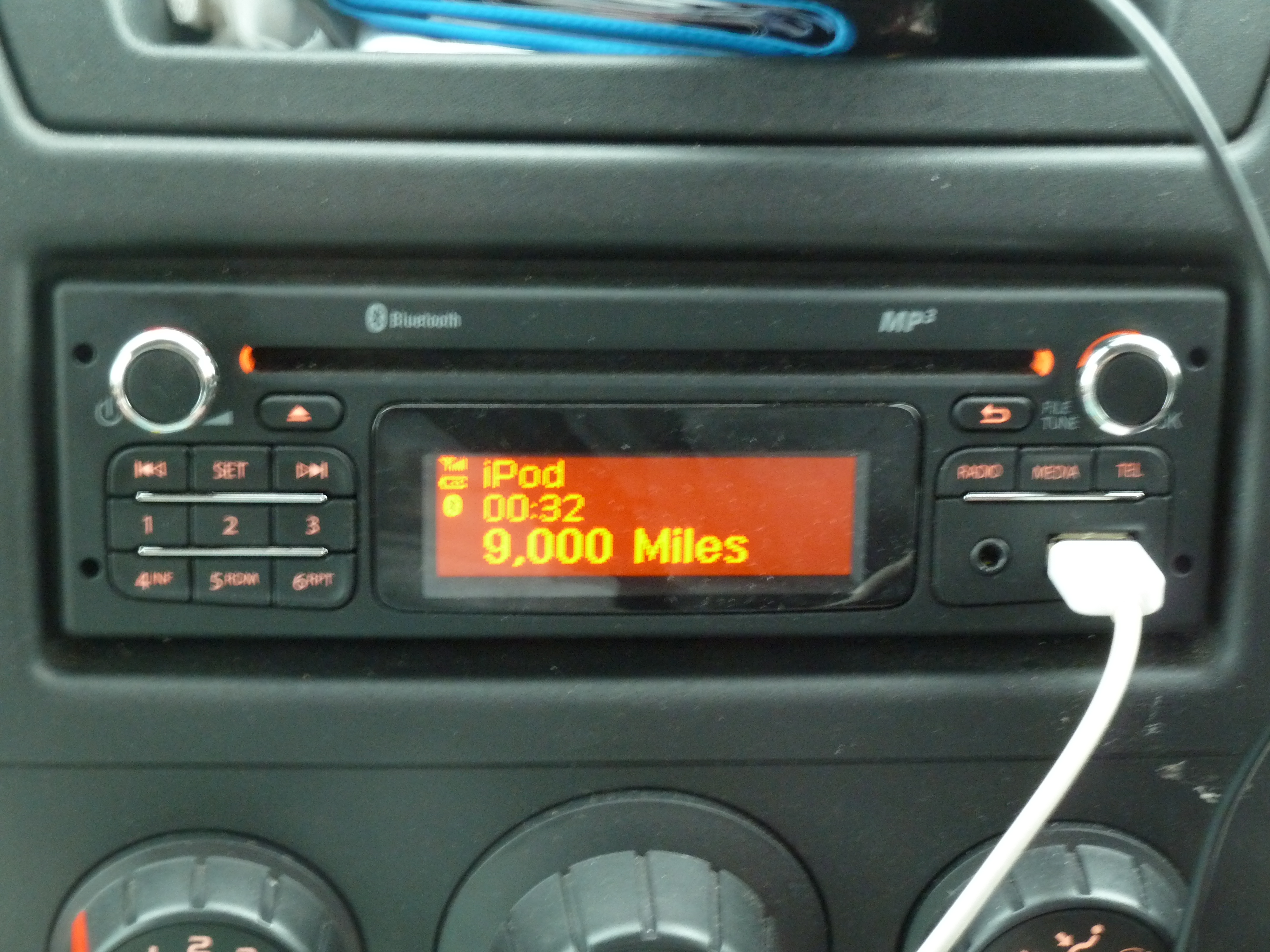 On Friday, the 11th of July, CHZK embarked on an epic journey across half of Europe together with two of his british friends. Their goal: the transport of a IIDX and a pop'n music cabinet all the way from Sweden to Southend-on-Sea in the UK. Their tools: A Vauxhall transporter, 500 Liters of fuel, a bag full of long-lasting foodstuffs, and 4 days for the entire job.
This is their story.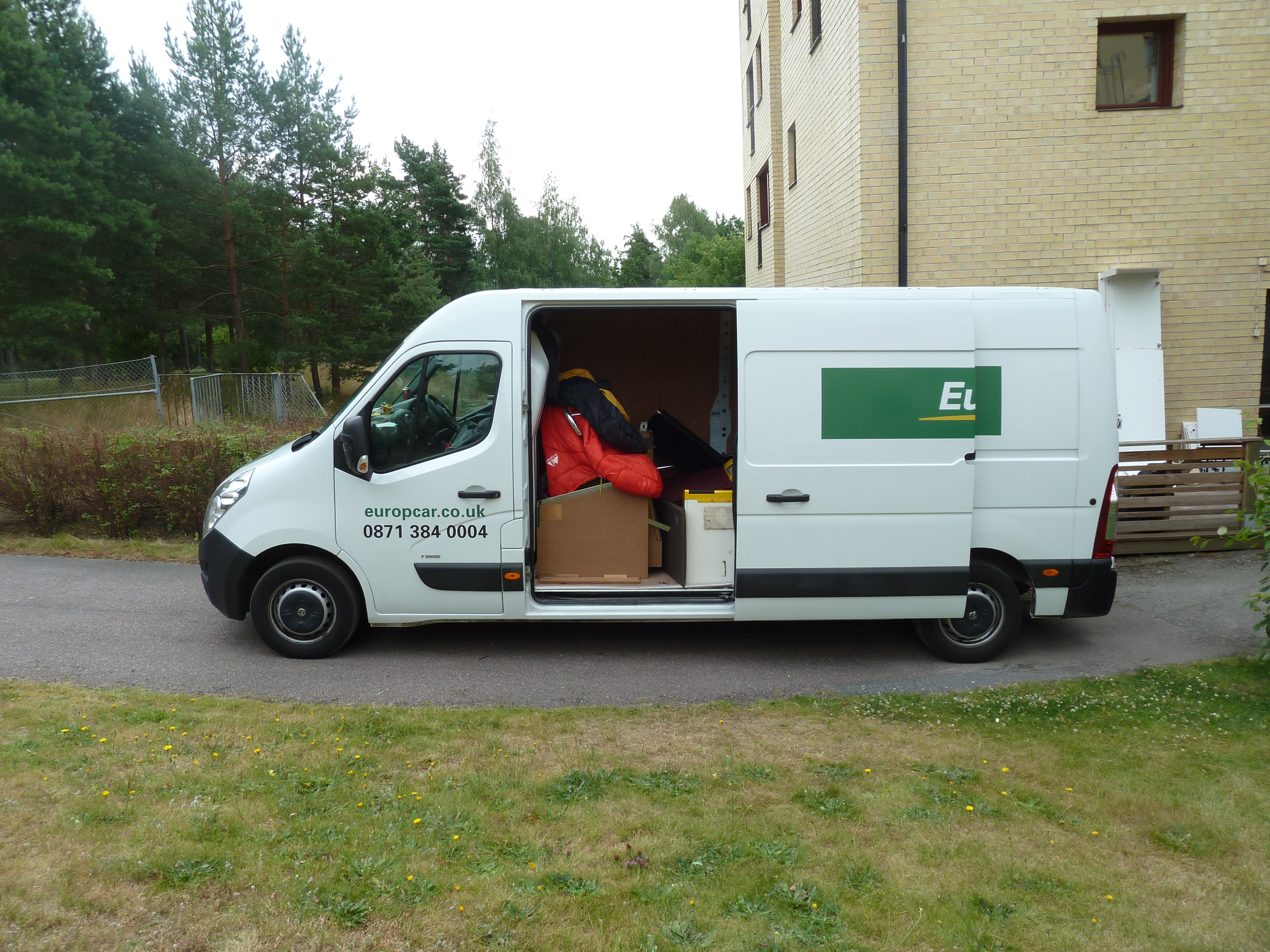 It's Sunday. We wake up to find that our host has apparently stayed up the entire night so that Mercury, our driver, could sleep comfortably on the sofa. He says it's no big deal, but we're really grateful for it. The clock shows 6 AM as we pack our stuff and say our goodbyes. We decide to pay homage to our awesome vendor by playing "Thank you for playing" while leaving in our van. Then, it's off onto the swedish highway again, and our journey back to the UK begins.
We make good progress, and the 600 kilometers across Sweden only take us about 7 hours. As we approach Malmö however, we realize we're starting to run out of music – 8 gigabyte just isn't enough for a trip this long. We've already listened to all IIDX soundtracks from Resort Anthem to SPADA twice, so in desperation, we turn towards the radio. To our surprise, it's actually playing some pretty good tunes! Seems like Scandinavia is a bit above par when it comes to radio stations in Europe, which tend to always only play the newest charts. A little later, we're rolling across the Øresund bridge again (another 100€ poorer), and before lunchtime, we've reached Denmark.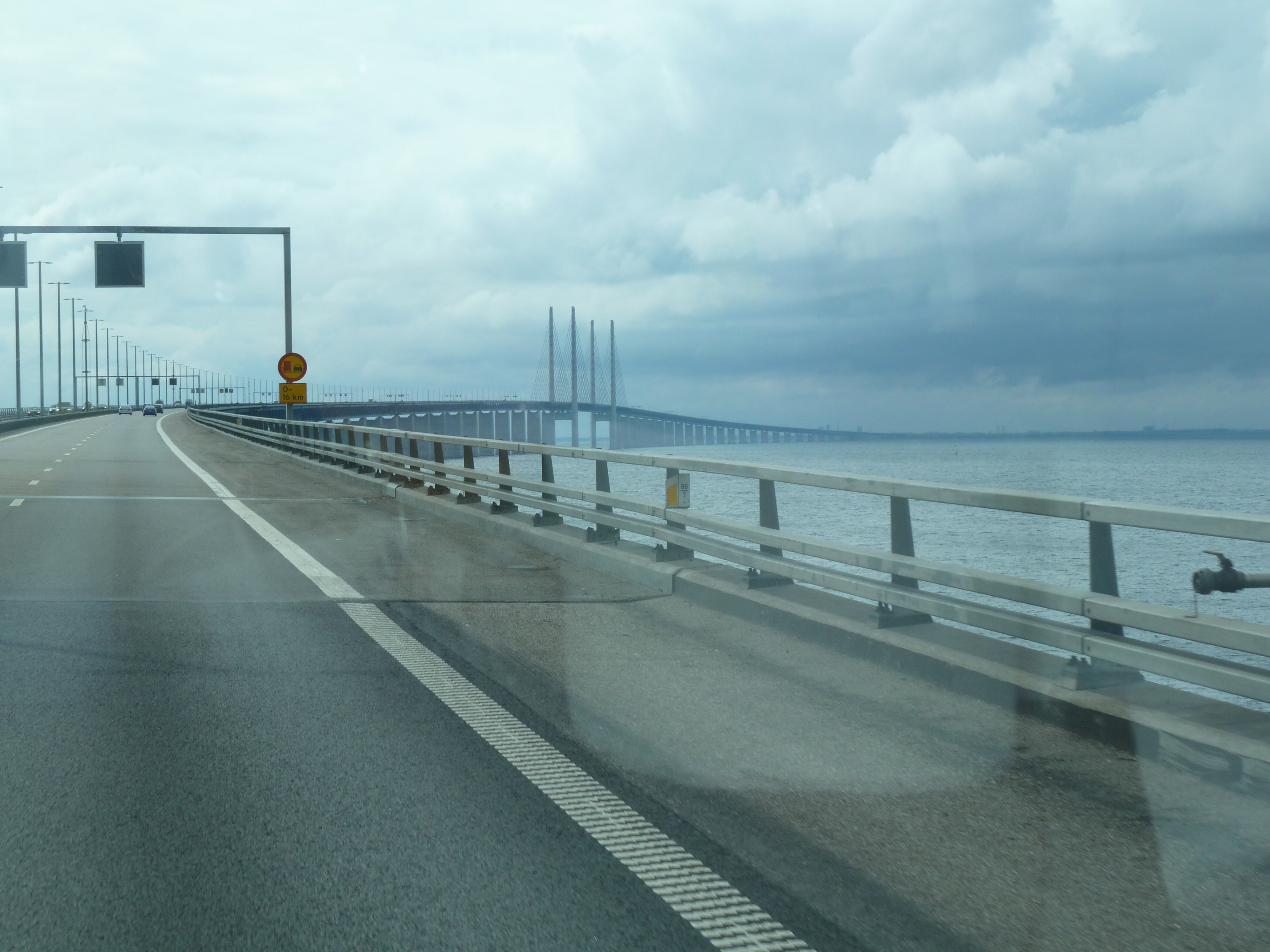 Just after Kopenhagen, we pull over at a fuel station and grab a few baguettes for lunch. It tastes okay, but for some reason, I keep thinking back to the Pizzas in Stockholm from last night. Maybe it's because that was the only warm meal I've had in 3 days… Aaron and Mercury seem to not mind, though.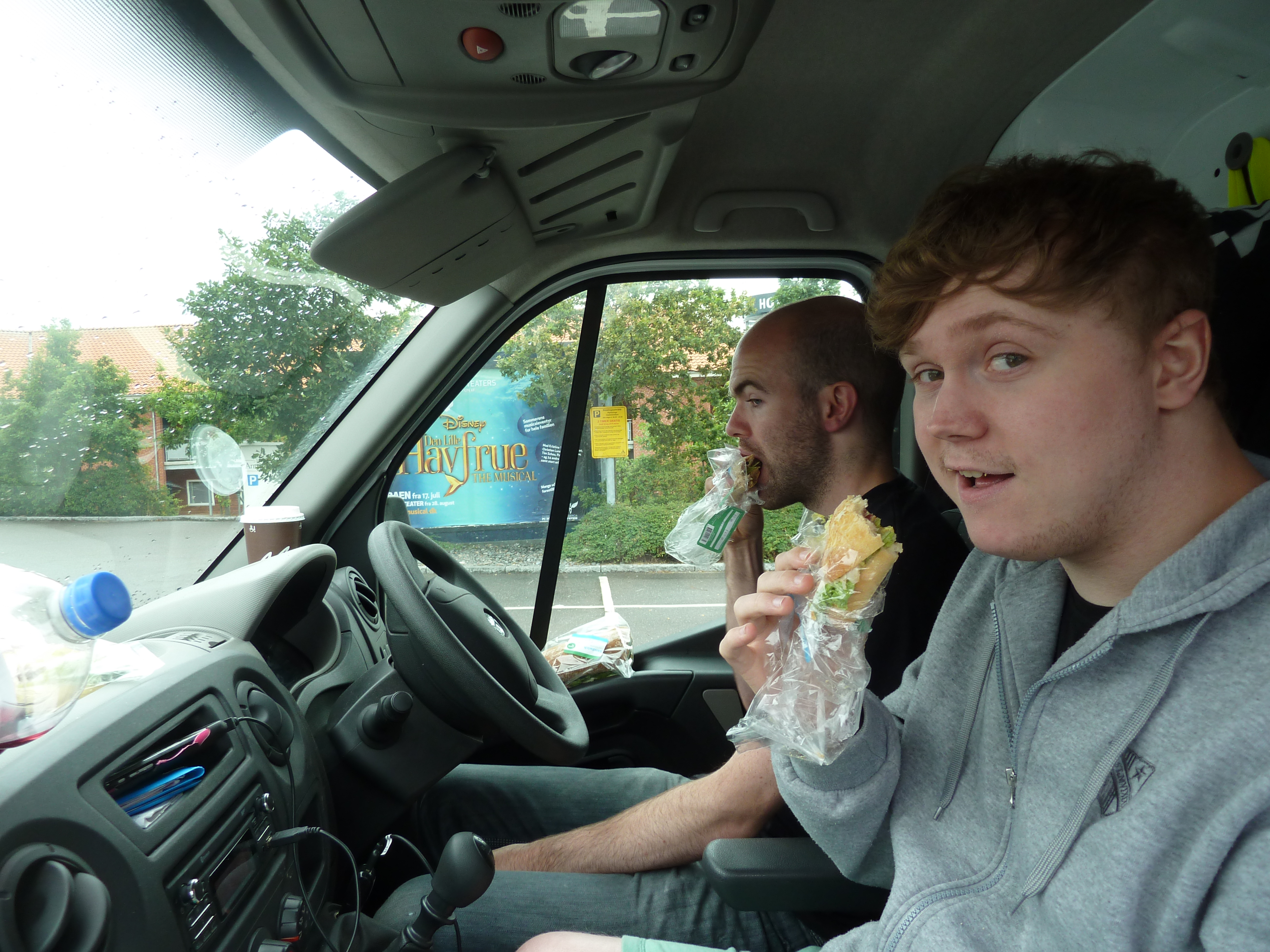 With renewed energy, we set out at about 3 PM to finish today's trip and, at the very least, get until Hamburg, possibly further. That endeavor is sadly stopped by us running into a traffic jam just west of Kopenhagen (a similar thing happened on the previous day). It takes us almost two entire hours to reach the next bridge –  a heavy setback. Still, we're determined to make it, and what other options do we have, really? Our ferry from Dunkirk to Dover is already booked for 6 PM tomorrow, so we'll have to drive overtime today, if needed. However, as we cross the Storebælt bridge, the staggering view takes our minds off of the time issues, and we spend most of the remaining trip taking pictures of the landscape. Here's a few of them:
With no more time to waste, we speed past Odense, Fredericia and Kolding before finally stopping just before the german border after nearly 4 continuous hours of driving. Tired and exhausted, we have a short snacking break before continuing southward. While we're at it, we also check the back of our van and discover that everything is still neatly in its place, just the way we packed it back in Stockholm.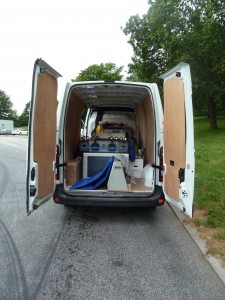 Here, you can see our payload in all its glory.
The monitor for pop'n music is at the very front,
followed by the (old) IIDX monitor with the marquee
and 4 of the loudspeakers on top of it.
Behind that lies the main part of the pop'n music cabinet, the weight of which holds the 200 kg heavy base for the IIDX in place. On the sides, there's a few boxes with various equipment, and on the right side, all the way to the back, you can spot the IIDX controller part. Everything is more or less well secured with straps, cushions and various pieces of clothing.
At around 6 PM, we pull out of the parking lot and finally cross the german border. Not many noteworthy things happen until we reach Hamburg at around 8 PM, when the sky suddenly goes extremely dark and it's starting to rain. We realize we're not going to make it much further in this bad weather, tired as we are, so we pull over at the next big stop after switching onto the A1 and prepare to call it a night.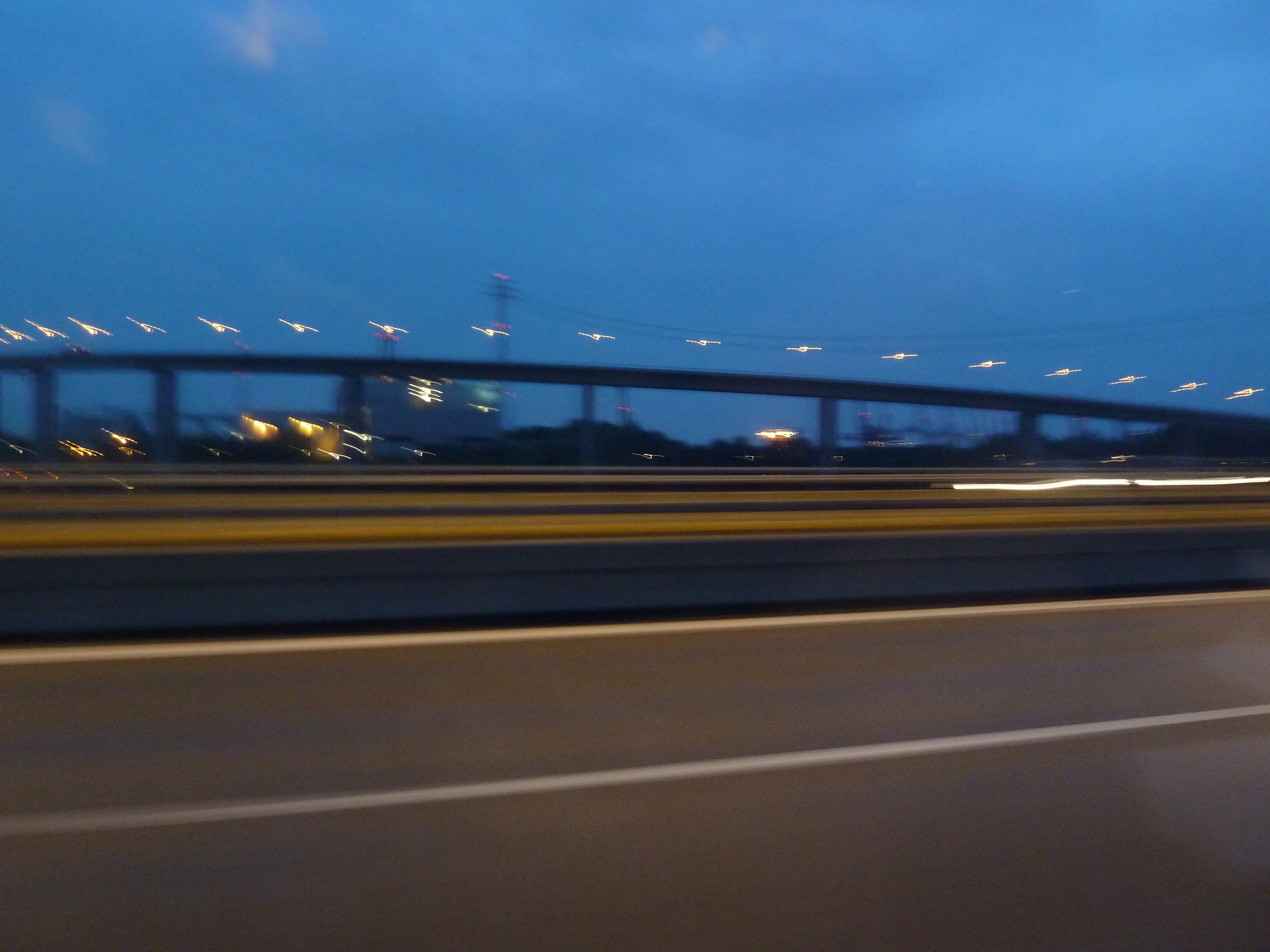 That's when I remember that Germany is supposed to play in the final match of the football world cup today. I carefully weigh my options (barely any sleep but getting to see the game VS enough sleep but not being able to celebrate should Germany win) and come to the conclusion that most germans would probably come to.
Luckily for me, I did end up celebrating the germans winning that night, even if it was with complete strangers. My two colleagues had already gone to bed when I returned to the van, so I decided to let them sleep and stuff myself into the back of the van instead, which turned out surprisingly comfortable after a few arrangements.
Tomorrow, the next and final part of our 4-day journey will be posted! We'll make it onto the ferry just in time, and finally return to the UK! Then we get to unload everything… With only three people.