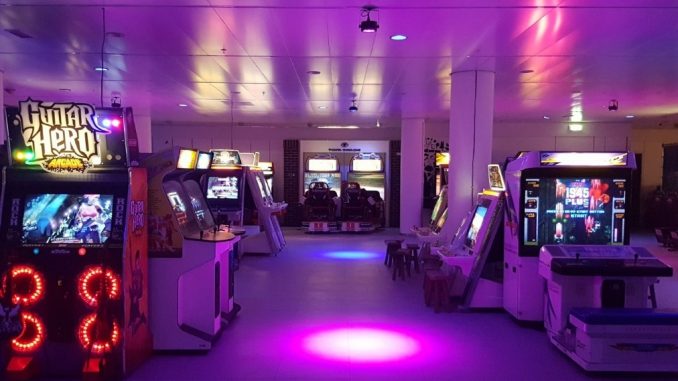 It's been almost 10 months since the National Videogame Museum (NVGM), currently the largest arcade in the Netherlands, first opened its doors. With this, a small group of dutch arcade enthusiasts made the big leap from a privately financed arcade machine storage that was open about once per month to a full-blown public arcade museum. So far, the new location has been a great success, pulling in hundreds of visitors per day on weekends and establishing a dedicated group of music game regulars who come there every weekend to play. Their inventory includes five Konami music games: Jubeat, Pop'n Music, Future TomTom, DrumMania 9th Mix and a DDR SuperNOVA. And soon, there might be a 6th Konami game joining them: Beatmania IIDX.
A GoFundMe campaign started by a group of regulars started tonight, aiming to raise 2000€ in order to purchase and ship a Beatmania IIDX cabinet straight from Japan and to the arcade museum. Should it be successful, it would not just be the first fundraiser of its kind to be successful in Europe, but it would also bring the first public IIDX machine to the Netherlands (as far as we know, at least). The campaign is headed by Nebbii, who has been hooked on the game for more than 10 years and saw a chance to get regular access to a real arcade machine when the museum opened last year:
We've been trying to get a IIDX cab to the Netherlands for many years, but there hasn't really been an arcade suited for it until NVGM opened. To have a good IIDX cab you need an arcade with operators who care about it's players and properly maintain the cabs. Also one who's willing to make the purchase!
Even though he's aware that IIDX is a rather niche game, Nebbi is convinced that there are enough players in the Netherlands willing to chip in to bring the game to NVGM. According to him, the actual cost of the cabinet plus shipment would approach 4000€, meaning that the other half would be paid by the arcade itself. This high price coupled with the fact that IIDX is not a game that's easy to pick up for casual players, has made the arcade owners hesitant to buy it – but if the fundraiser is successful, it'll prove the players' interest and make the purchase less risky for the arcade owners. Even if the goal of 2000€ cannot be reached fully, the guys at NVGM will consider importing the game, depending on their financial situation. And if they decide not to get IIDX after all, of course all backers will receive their donation back.
The GoFundMe Campaign can be found here, the announcement on Twitter, in case you want to share it, is here.