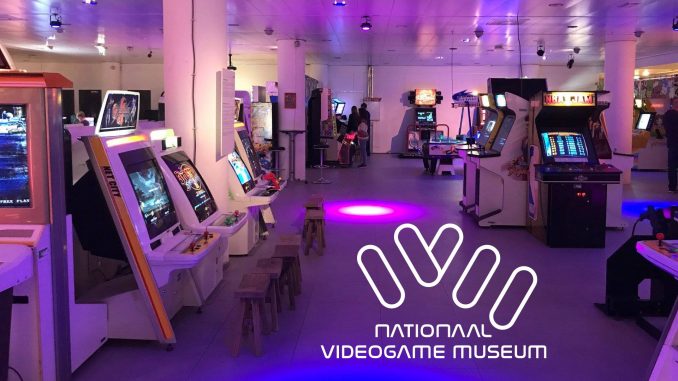 Please note that most of these pictures are from late 2017, just after the arcade had opened. Therefore, many machines currently at NVGM are not shown. I would've gone to take pictures of them last year, but… you know. As soon as travel is possible again, I will update this review with fresh pictures from 2021!
2017 saw a new competitor step up to fight for the title of "Best Arcade in the Netherlands" – with over 50 arcade machines currently on display, it's currently in the lead at least in terms of numbers. But it's not just the sheer size of this arcade that has attracted players, but also how it cares about its games and helps build communities around them. In fact, the arcade itself only exists thanks to a community of dedicated enthusiasts who started off inside a small industrial hall in the outskirts of Zoetermeer. This is the story of the Nationaal Videogame Museum.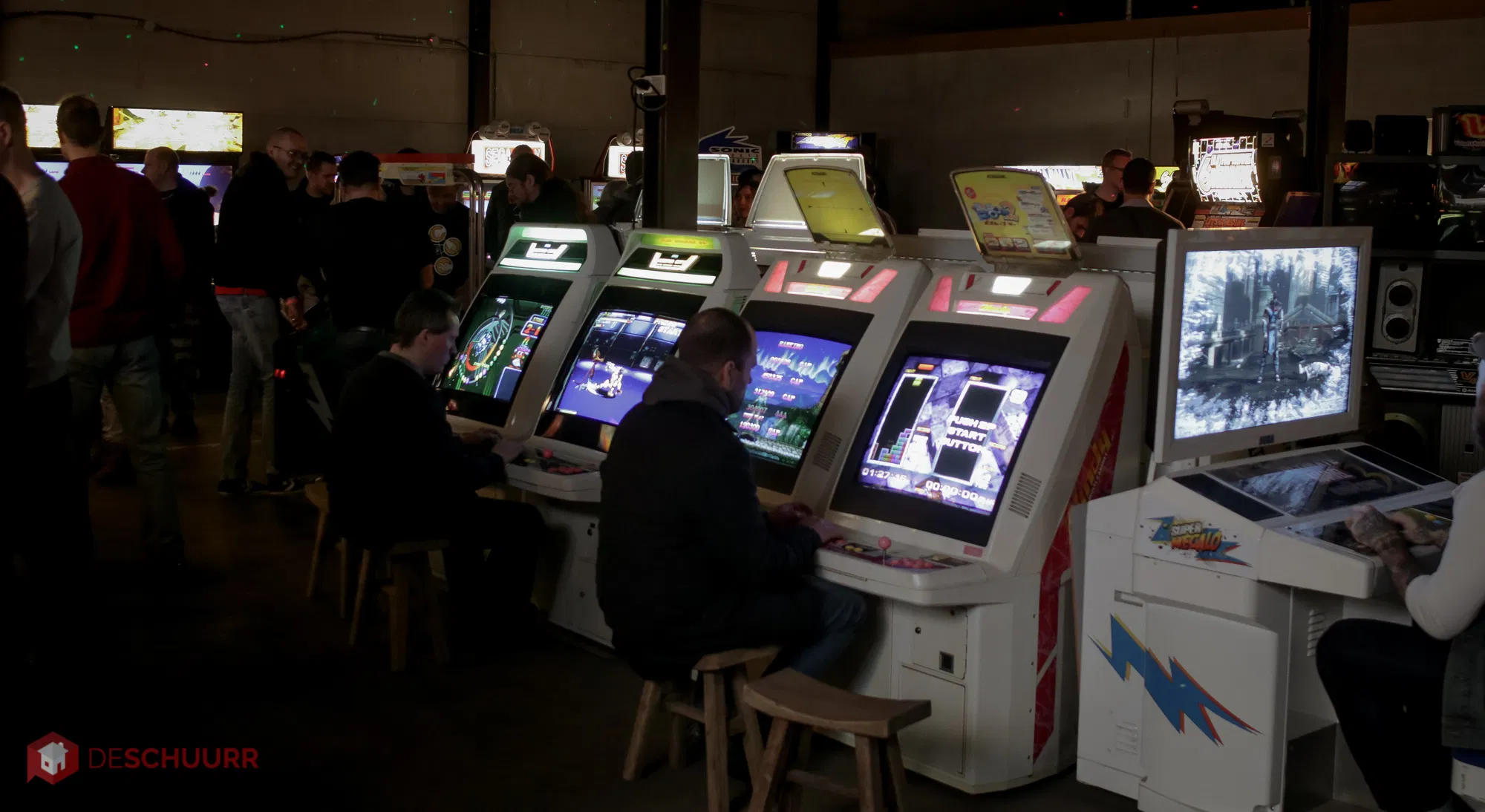 The History
Like some other famous European arcades, Nationaal Videogame Museum (NVGM for short) started out as a community project inside a small but cheap industrial hall. This particular one was the project of a few arcade machine owners from the arcade gaming forum nozomi.nl: Together, they rented a hall in the southeastern industrial area of Zoetermeer and dubbed it the "Nozomi Game Center". Their initial setup was basically that of a storage hall that was open to visitors once per month. This scheme has proven successful all around Europe, since it allows for the monthly storage costs to be paid off by the entrance fees gathered on open weekends. From 2011 to 2017, they operated under this concept in various locations around Zoetermeer, before settling down in the Edisonstraat and changing their name to "RetroPlanet". In mid-2017, they finally secured the dream location of any arcade owner: Right in the middle of the city's main mall. This was made possible thanks to the city council of Zoetermeer itself, which supported the conversion from arcade storage to public museum both financially and practically. In recent years, it has also received support in various degrees from big names like Nintendo, Microsoft, Google and Samsung, and there's even a public foundation dedicated to running the museum and expanding its collection.

Since the opening of their new location in November of 2017, NVGM is now run as a full-fledged corporation, allowing some nozomi.nl members to turn their passion into a job. And the new location seems to be working quite well for them – not just have they gathered a sizeable amount of regular players, they're also steadily importing new cabinets and adding to their collection. So let's take a closer look at the museum, how it works, and what made it the place it is today.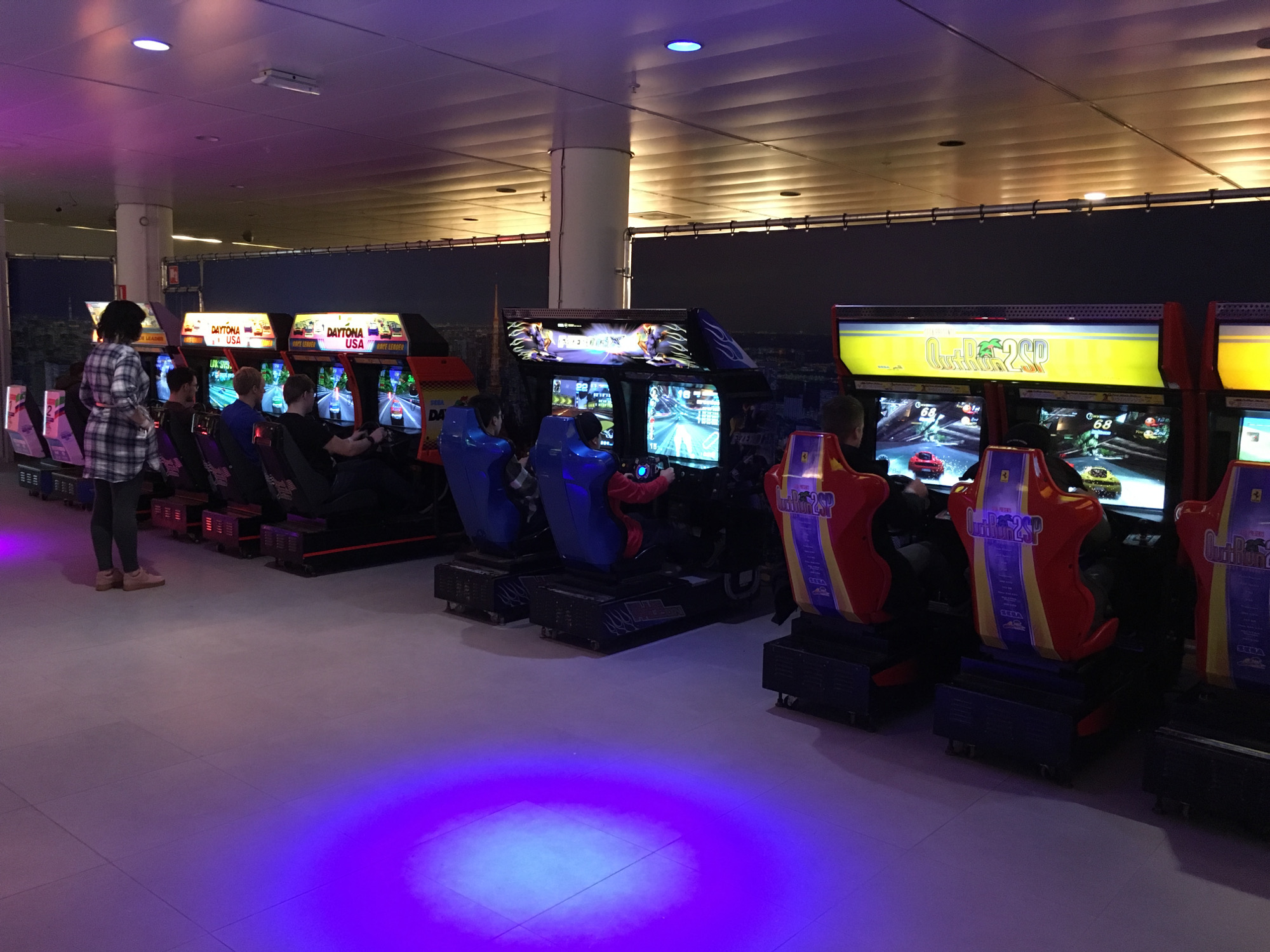 The Arcade
Even though it calls itself a museum, NVGM is much more than just that. While it does have an area that's very much like a traditional museum (an interactive one, even!), the arcade section takes up the most floor space by far and can stand on its own just fine. For the most part, games are neatly organized into categories, so beat'em'up players, racers, and of course rhythm gamers can switch between the games they love easily. The rhythm game section especially is arranged in a way that the sound from other games usually doesn't overpower that of the cabinet you're playing on.
As you can tell from the pictures, the atmosphere in the arcade section of NVGM is dominated by blue and warm-white lighting, giving it the feeling of an underground arcade without being as tightly packed and claustrophobic as most arcades of that type. If anything, I would compare it to the typical main-street arcades of Tokyo like Adores or Taito Station – despite all the machines, there is lots of space to move around in, and when you enter, you can immediately tell where your favorite games are. Also much like its Japanese counterparts, NVGM is open throughout the whole day (10:00 – 18:00), on nearly all days of the week (except Mondays and Tuesdays). This makes it perfect for a short visit after work, or just wandering into it for a few hours on your weekend trip to the city.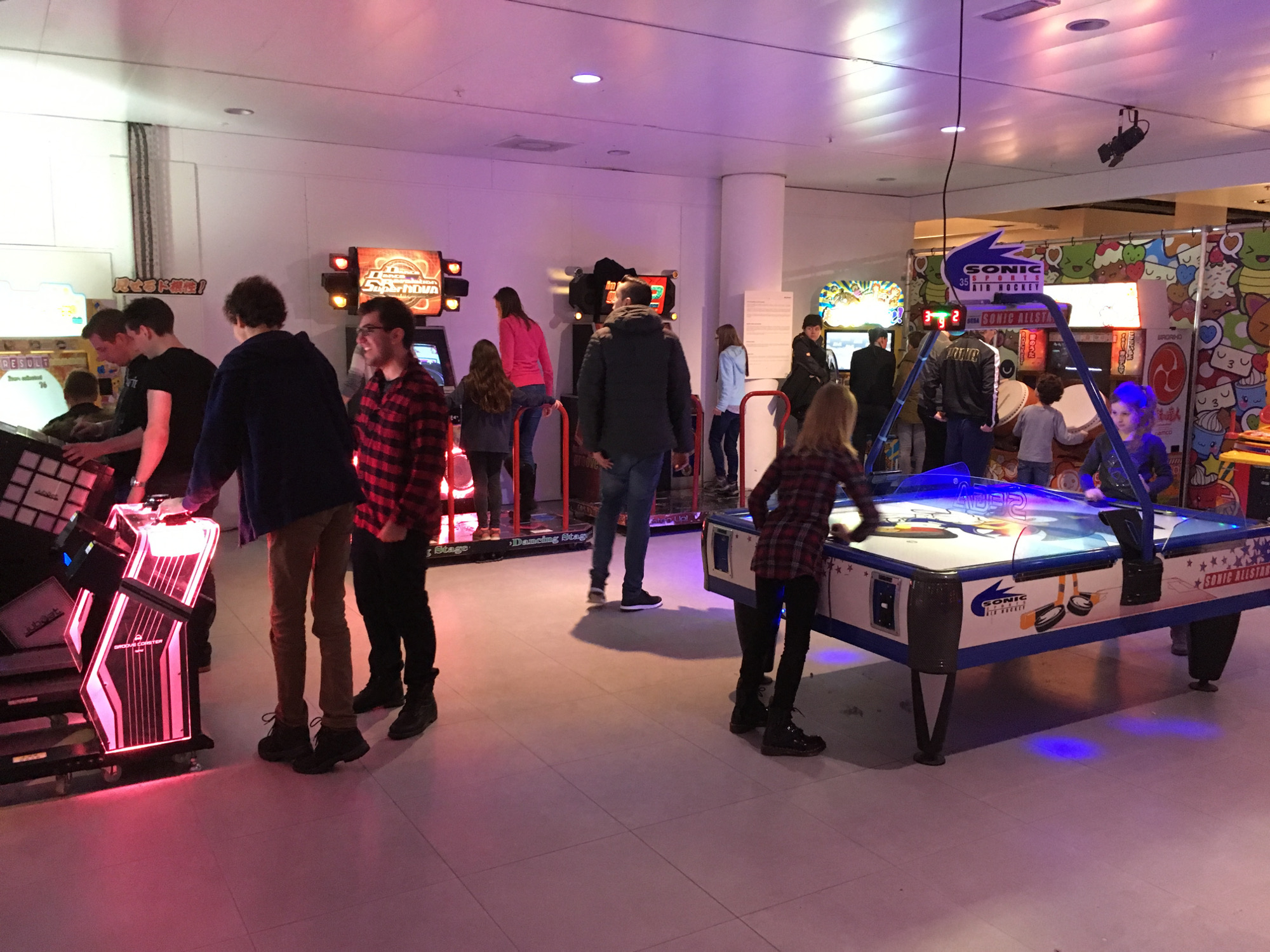 The Games
The name "National Videogame Museum" carries somewhat of an implication of importance, maybe even grandeur. It practically shouts: "If you're a videogame fan and you're coming to the Netherlands, this is the place to be!" Well, does it live up to those expectations?
In my opinion, it certainly does. Not only does it display more than 50 arcade games all the way from the 1970s to the most modern rhythm games from Japan, but it also has a section dedicated to home console gaming, with incredibly beautifully designed little areas that look like typical living rooms from the 1980s and 1990s. Instead of just sitting down to play an old game on a generic metal bar stool, the feeling you get when picking up an SNES or Genesis controller at NVGM is almost that of being transported back in time: The tiny old couch with its tacky plaid design squeaks as you sit down on it, and it all just somehow feels so familiar, even though it's all from a time before you were even born. I mean, just LOOK at it: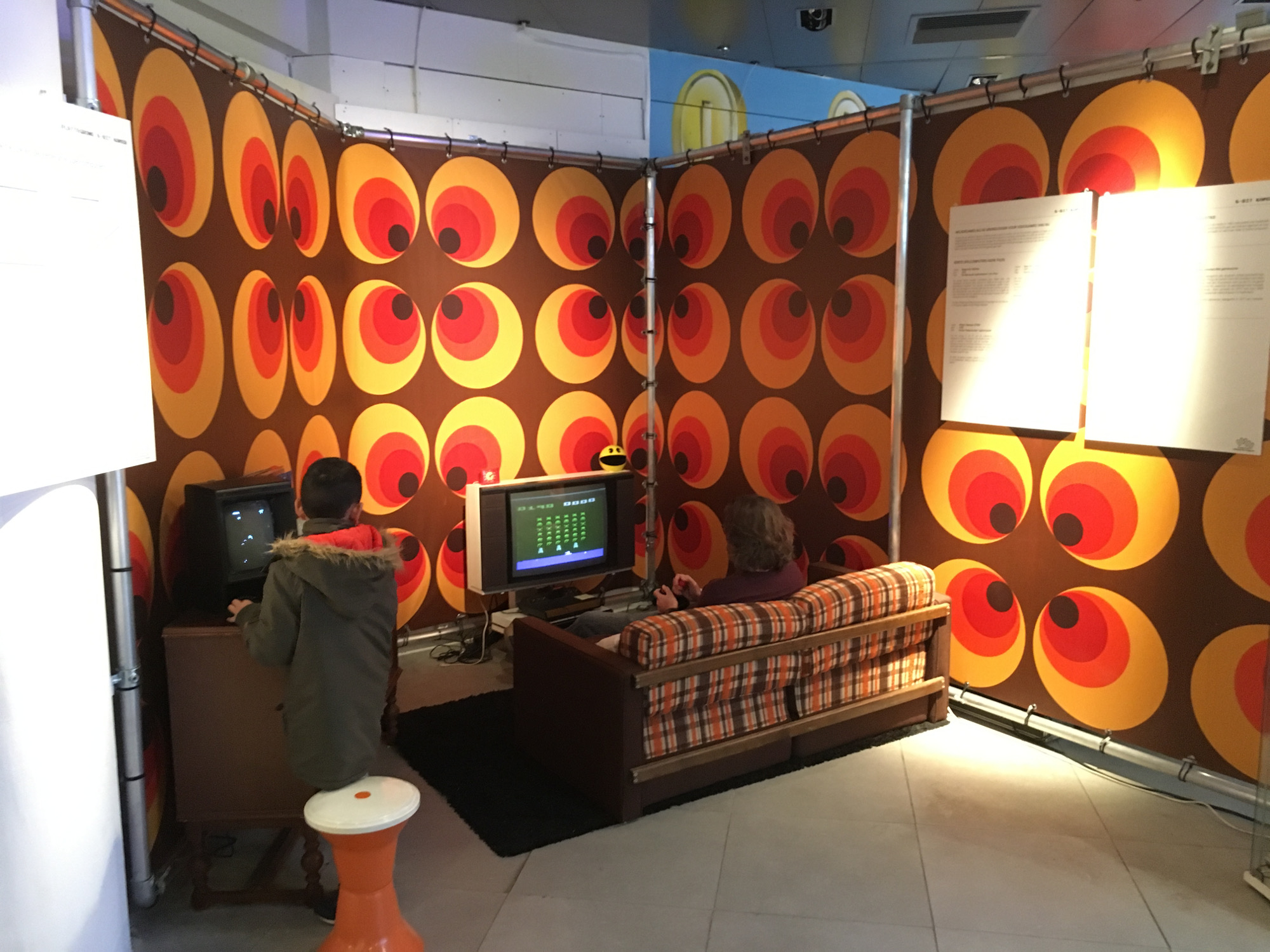 I don't know about you, but this looks like the perfect environment to waste a few hours on Space Invaders or Astroids – games that, nowadays, seem almost too mundane to bother with. But when you're in that environment, in that room, you can experience a little bit of the feeling of that time: How exciting it must've been for kids back then just to interact with the abstract shapes on the screen, how explosions consisting of a few scattered lines were the most awesome thing ever, and how simply aiming to beat someone else's highscore was something that could keep you playing for hours.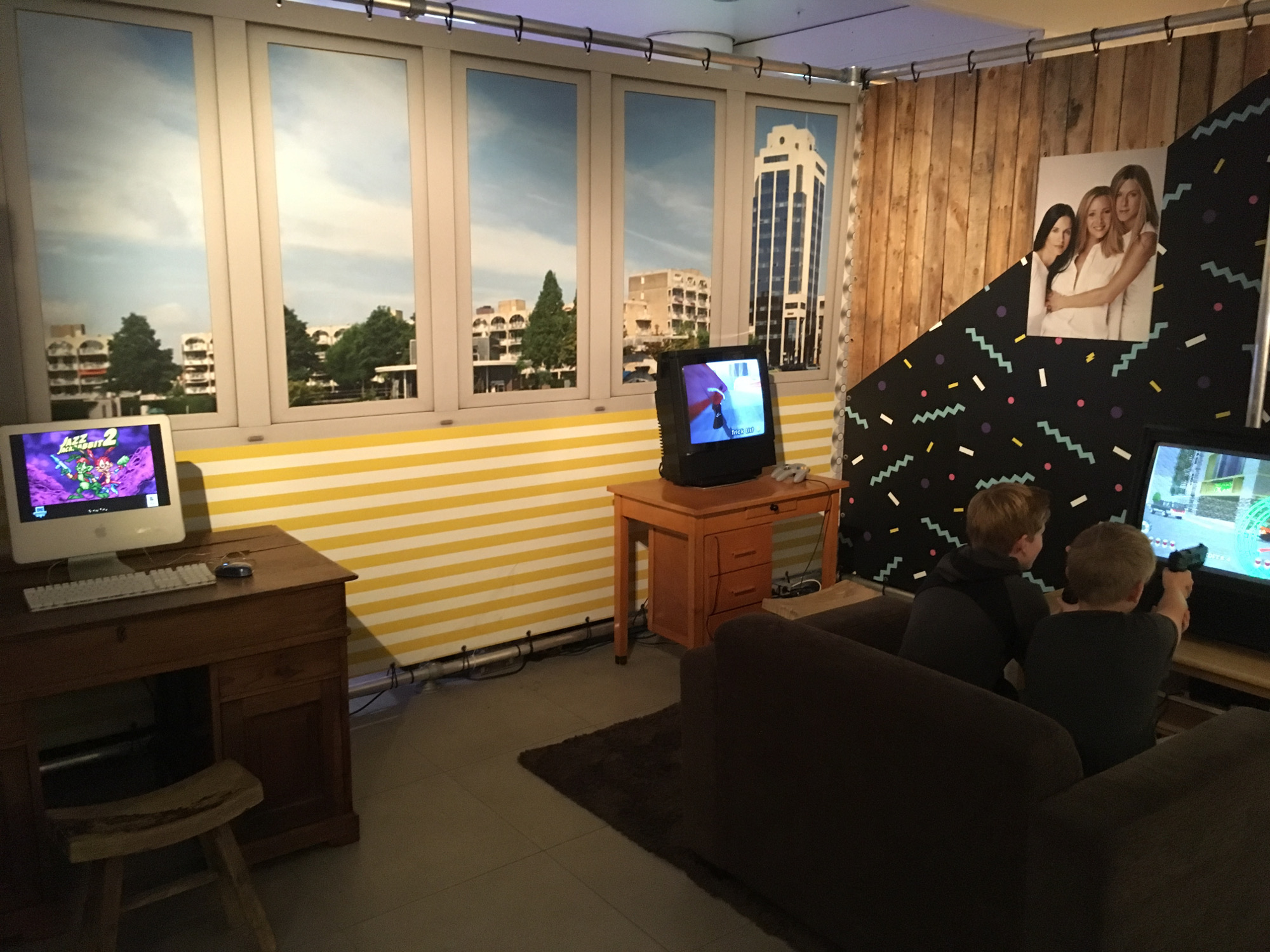 Anyways, that's my tangent about the non-arcade section. What about the kind of stuff you guys read this blog for? Rhythm games? Well, back in 2017 when I took all these pictures, all that was at NVGM were two Jubeat, one Groove Coaster, one ITG and one DDR machine. You can see them within the rhythm game section here: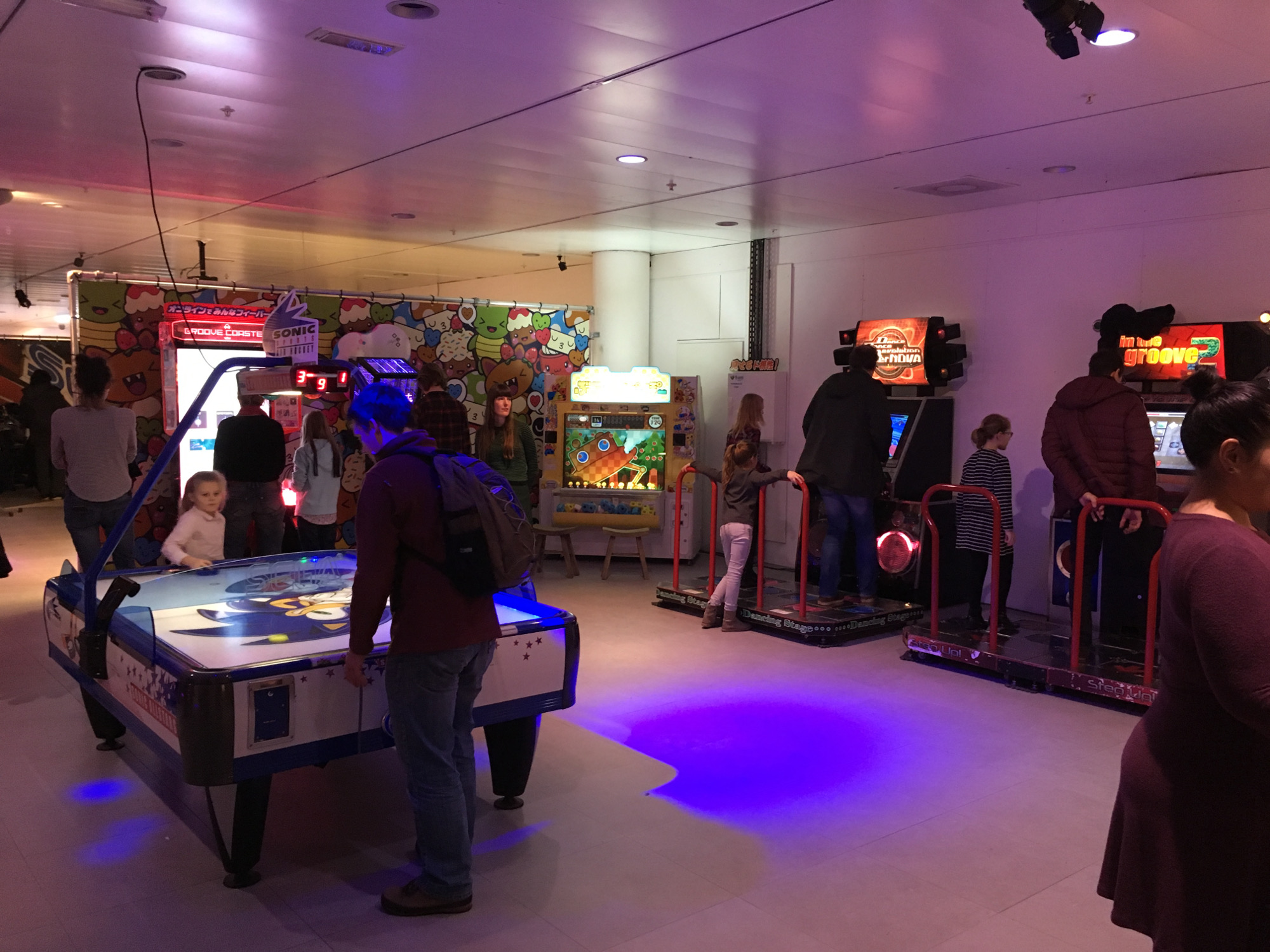 Later in 2017, they also got a Taiko 14 machine. But it was in 2018 that they really started ramping up on the rhythm games. In that year alone, they added a DrumMania, a pop'n music, and a Future TomTom to their lineup, and someone in their community started a fundraising campaign for buying a IIDX machine. That machine, together with two SOUND VOLTEX and one Nostalgia cabinet, were imported the following year, bringing their total rhythm game lineup to a whopping 13 machines – the most by far at any one location in Europe. Last year, this collection grew even larger, adding games such as Hatsune Miku – Project Diva, maimai, and, for the first time ever in Europe, Chunithm to the list. Nowadays, it's safe to say that NVGM is the definitive location for Rhythm Gaming in Europe, right besides HEY Stockholm, who have a comparable amount of rhythm games (17 / 15 respectively). In fact, with the exception of DanceRush and Ongeki, NVGM's rhythm game lineup differs remarkably little from that of any contemporary Japanese arcade at this point, which is a remarkable feat indeed. To get a full overview of their arcade machine lineup (which is way too much to list here), check out their entry on Zenius-i-Vanisher.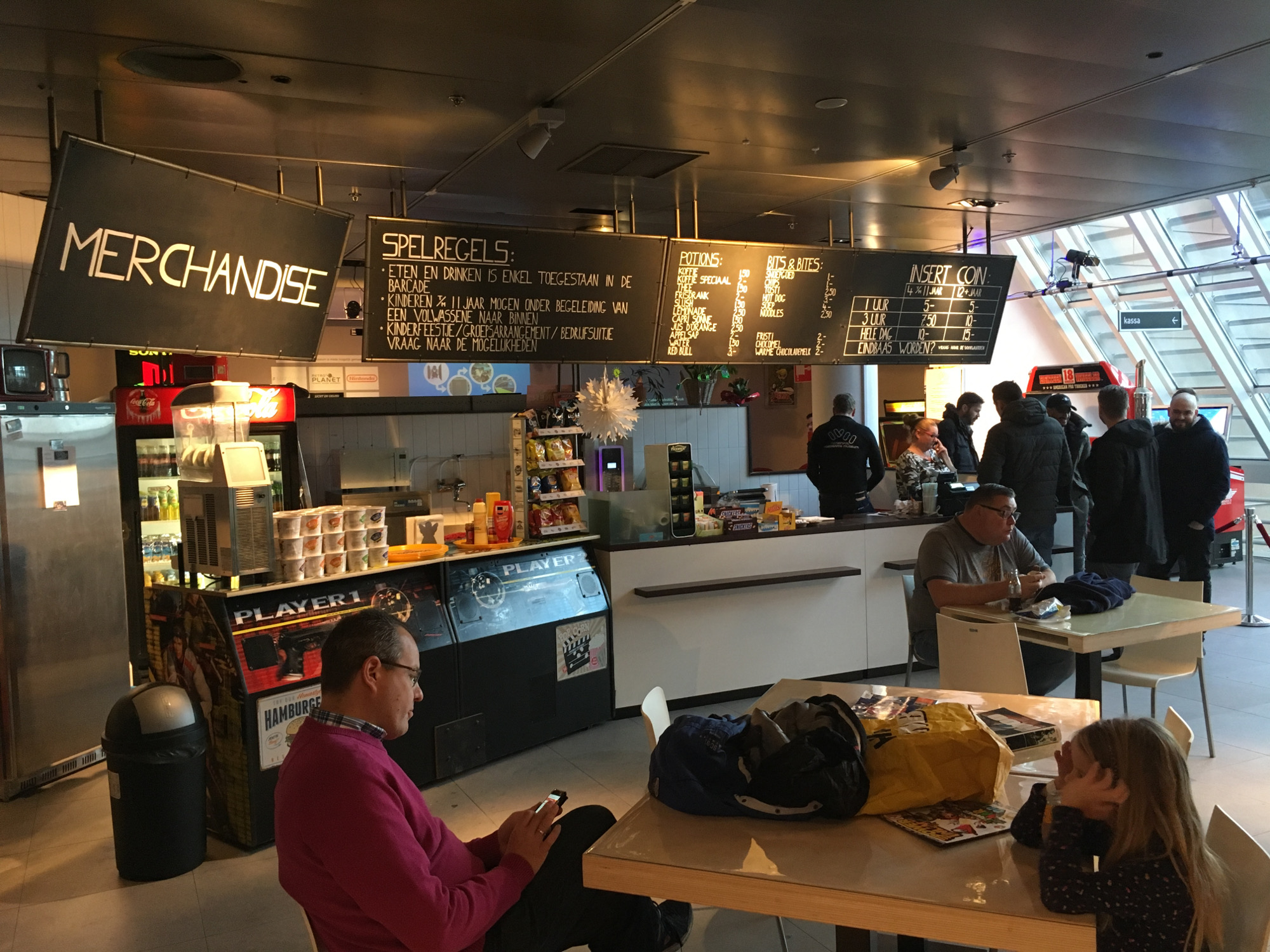 The other stuff
Rounding out the already excellent experience of visiting NVGM are its various amenities. As with any good arcade, there are of course toilets, but what really makes NVGM stand out is its bar: Here, you can get drinks and snacks for pretty good prices, as well as various merchandise items displayed in the vitrines at the entrance. What's also in the entrance area are the lockers, which are a really handy way of securely storing your backpack after coming from school or work – bonus points for taking that into account! Finally, there are plenty of seating options, both around the bar and next to the arcade section, allowing you to rest a little after your 8th consecutive round of grinding 10th dan on IIDX.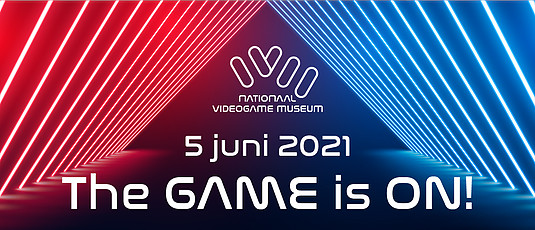 Conclusion
What else is there left to say? NVGM is currently, hands down, the best arcade in the BeNeLux region. If you want to find the same experience elsewhere, you need – at the very least – to take a flight to Stockholm. In a way, NVGM is the pinnacle of the incredible development we've seen happening among private arcade collectors and fans during the last decade. From the first small groups splitting up the rent of a storage hall in the midde of nowhere to a fully-fledged business, running a publicly accessible museum, importing new cabinets from abroad every year – this kind of success story can't be found anywhere, so I am personally very lucky and happy to see it happening in this relatively small suburb of The Hague, where people from the Netherlands, Germany, Belgium and even the UK can come together and enjoy games that, just 7 or 8 years ago, they would've had to take a holiday trip to Japan for.
I started this blog back in 2014, when arcade gaming in Europe was practically dead and rhythm game machines could still be tracked individually. Part of why I started it was a vain hope that, somehow, through gathering information and connecting people, I could help, even just a little, in saving the European arcade scene. Now, it's 2021, and we have projects like the NVGM which not only played a large role in re-vitalizing the arcade gaming scene but also showed that, if done right, arcades as a business can work, even in the Europe of the 2020s.
In June 2021, NVGM is finally re-opening its doors after almost half a year of lockdown in the Netherlands. Next year, it'll celebrate its 5th birthday. And if the last 10 years of its history is anything to go by, the Dutch rhythm gaming community has a lot more to look forward to beyond that as well.