More than four years ago, we drove across the Dutch-German border to visit what was back then the only Gamestate location in the Netherlands. Since then, a lot has happened in the Netherlands – interest in arcade gaming got revived, and not in small part due to the contribution of Gamestate who managed to not only make arcades exciting again, but actually built an entire brand around their idea. On the 21st of December, they opened their newest location in Eindhoven. We used the winter holidays as an excuse to pay them a visit and see how much has changed since 2014.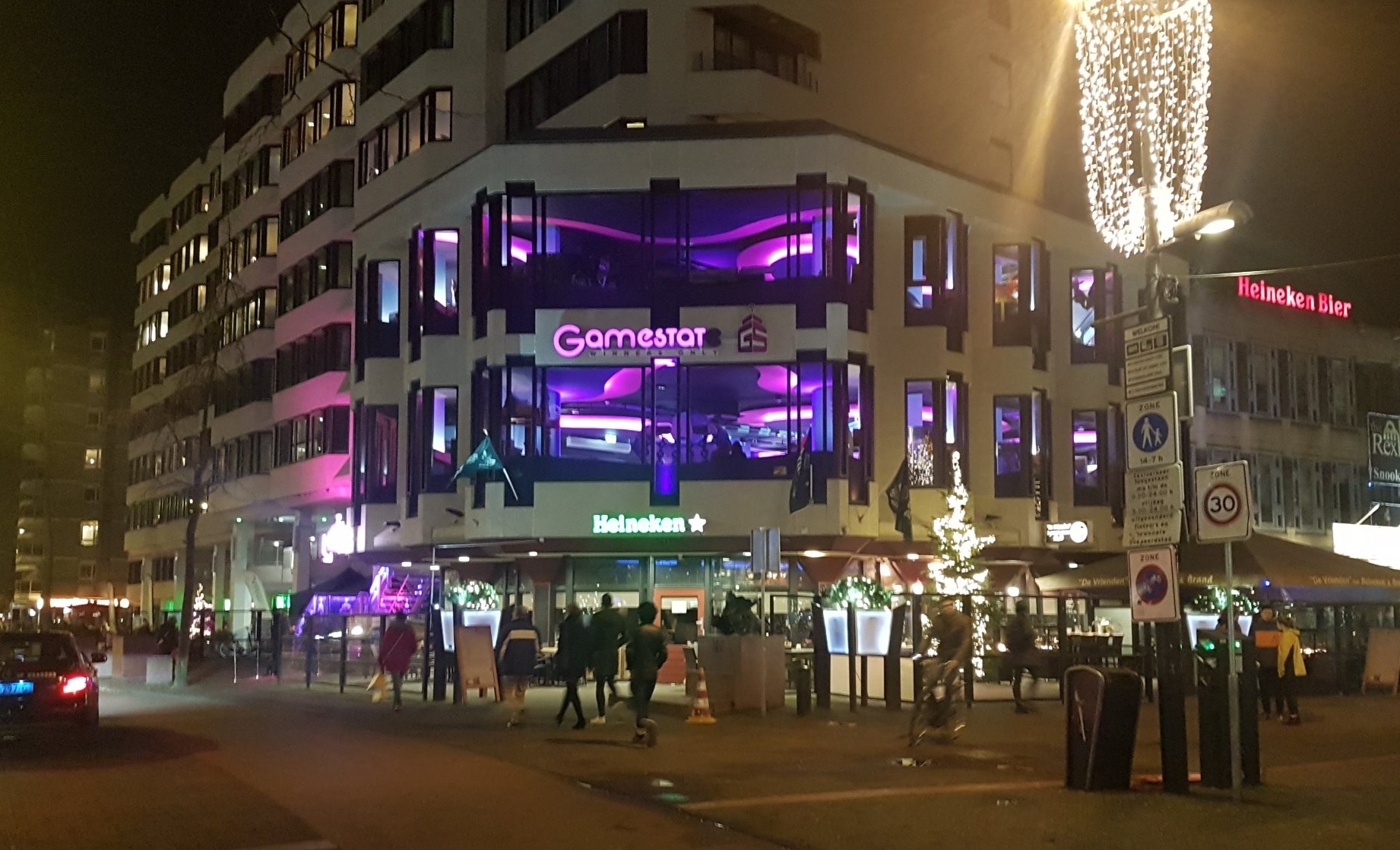 The Arcade
Despite it being on the first and second floor of a building complex otherwise filled with restaurants and bars, Gamestate Eindhoven is actually not that hard to find. This is mostly thanks to the carefully branded staircase, giving off that typical blue glow that is associated with the arcade chain. It also helps that it's located on Stationsplein 45, which is called that way because it's the road right next to Eindhoven's main station – so even from outside, the arcade is very easily accessible. However, since it's on the first floor, you'll have to walk up some steps, seen lit in blue in the lower left corner of the picture. And then you enter, and the first thing you see is this: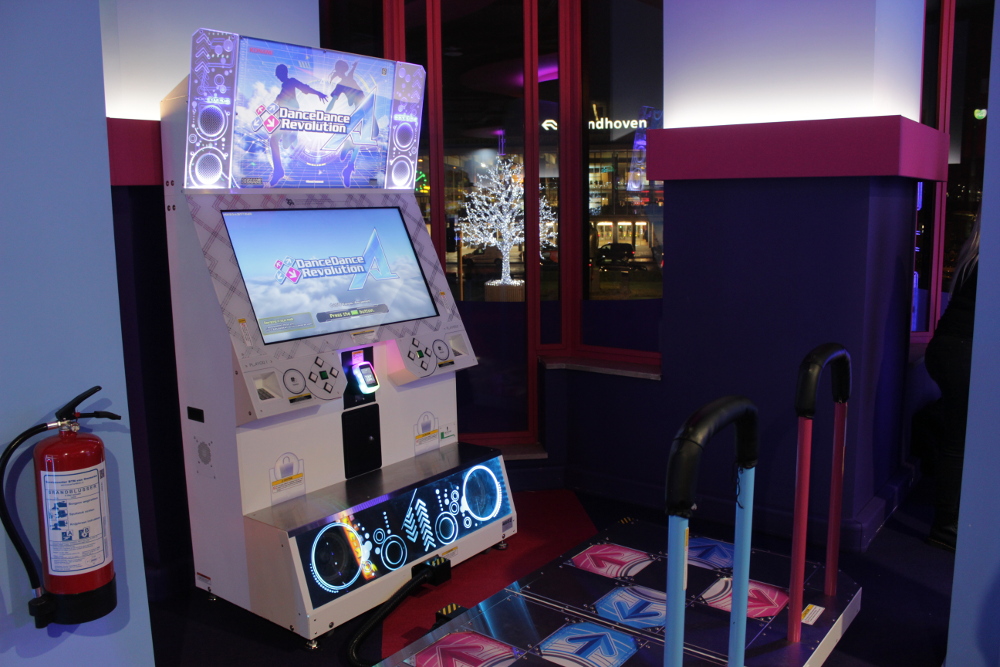 …oh.
I guess this is a good place to mention the fact that maybe the reason I drove 200km just to visit one weird arcade in the Netherlands was that, well, they got DDR Ace. Just like that. Without much of an announcement or a fanfare. The first Ace cabinet in the Netherlands, and the first public one in Central Europe. Since I kind of really want to talk about this, I'll keep my description of the arcade location and interior really short.
Just like with its sister location in Den Haag, Gamestate Eindhoven is located very centrally – actually directly opposite the train station! You go out of the southern exit and one of the few things you see this the beautiful building, right at the entrance to the city's central restaurant / bar area. As you can see above, it really stands out, especially at night.
As for the interior, it's a standard Gamestate location, so I'll gloss over a few details here. The thing that stood out for me most was the fact that it was smaller than any other Gamestate I've been to, despite taking stretching across two floors. It's just that the floor space is quite small, but they made the best they could out of it and managed to cram over 20 machines in, together with some air hockey tables and pinball machines.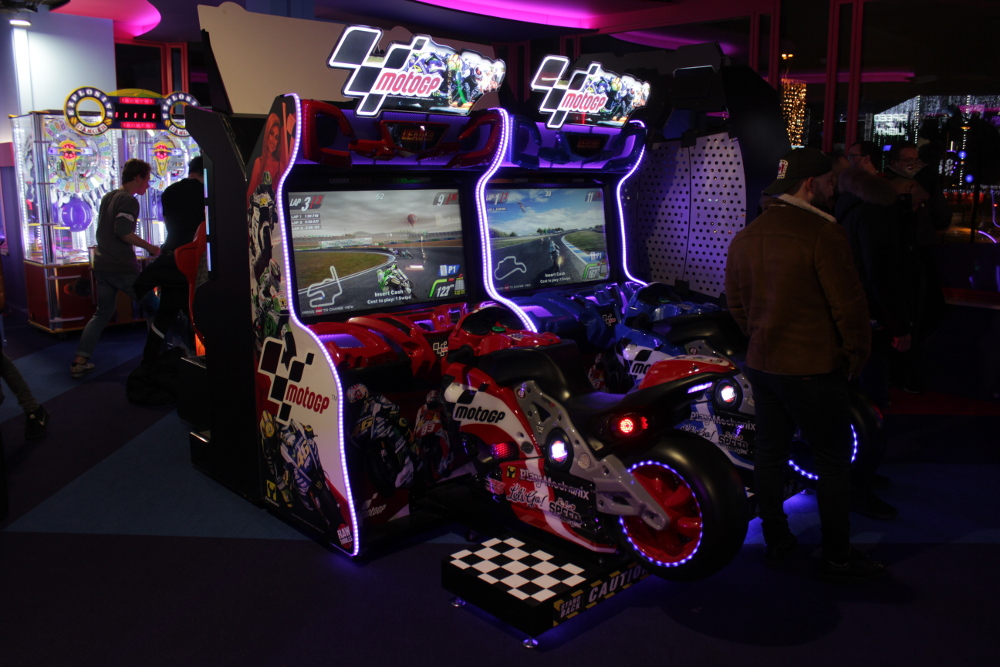 The Games
Okay, so let's get back to what actually matters: The games – starting, of course, with the DDR.
I've played on maybe 10 Ace cabinets so far (most of them were located in Japan), and if there's one thing I can say about the cabinets, it's that the experience never changes. This, of course, is also valid for the Eindhoven cabinet. The pads are perfectly responsive, the menu is fluent, intuitive, and the sound quality is exactly as good as you'd expect just from looking at the cab. It is, in fact, such a harmonious design that it draws in not just rhythm gamers, but most people walking past it. During the almost 3 hours we were at the arcade, the machine was almost constantly in use. And it wasn't just one-time players wasting their leftover credits on it, they were often groups of 4-6 people taking turns and almost hogging the machine, consciously aiming to get better. If there's one thing that sets Ace apart from the DDR versions that came before it, it's definitely its focus on newbie-friendliness and general ease-of-use. The four-way arrow keys make menu navigation really intuitive, and I rarely saw anyone having problems choosing the songs or even getting the hang of the game. Seeing this many players try out the game for the first time is really a fantastic experience, both from the perspective of seeing a community grow and seeing Gamestate's decision to purchase this rather expensive cab being rewarded.
So, besides the DDR, what else is there? Oddly enough, their lineup of interesting cabs doesn't stop with the Ace. There are a few other arcade gems hidden there in Eindhoven, like a Luigi's Mansion cab, the Moto GP pictured above, or even a mint-condition Time Crisis 5. Other interesting cabs that one doesn't come by that often include the giant Space Invaders, as well as "Kung Fu Panda Dojo Mojo", which is just a more modern version of the Fist of the North Star arcade game. Of course, there's also your run-of-the-mill ticket games like Speed of Light, but compared to the other Gamestates I've been to, this one seemed to focus a little more on just fun arcade gaming, without the external reward mechanic that is tickets.
The cabinets I played on, specifically the DDR, the Mario Kart GP DX and the Time Crisis, were all in wonderful condition, both functionally and visually. I've heard complaints about the DDR's panels being raised too much, but unless you play exclusively by bracketing, this shouldn't really be a problem. The volume on the DDR has also been raised recently, so it's now very clearly audible, and the price recently dropped from a ridiculous 2€ per song to a slightly-less-ridiculous 2€ for 2 songs. While I can understand that Gamestate wants the rather expensive cabinet to pay for itself as soon as possible, the European standard (if you can call it that, judging by the other 12 available cabinets) is closer to 1€ for 3 songs. For what it's worth, though, the recent price change was the result of a conversation between community members and Gamestate staff, so they certainly seem to recognize the rhythm gaming community as relevant and are willing to listen to our input (which might become relevant again once something on the DDR breaks down).
The other stuff
At Gamestate, you pay for credits by swiping an RFID card in front of a reader. You can get these cards for 50 cents at the counter, and you can recharge them in steps of 10€ using the white terminal pictured above. While this is not a perfect system, it works really well for power users and frequently returning customers, as you can, for example, just load 100€ onto your playing card and not have to worry about running out of credits for the DDR for a good while. To the right of the charging terminal, you can see a ticket machine which you can feed your tickets to in order to gain prizes, like additional credits or weird teddy bears. As I've never been interested in the ticket system, I can't say much about it, but the prizes, together with the amount of tickets they require, are lined up behind the counter on the top floor for anyone to see, so it seems like a fairly straightforward and transparent system.
Conclusion
When you compare Gamestate's newest location in Eindhoven to their other four, their core concept is exactly the same. First and foremost, Gamestate is still a chain focusing on ticket games, but having visited Eindhoven, I get the impression that they may be trying to switch things up a little. Buying rare and expensive cabinets like Luigi's Mansion or DDR Ace, which both can explicitly not be run as ticket machines, suggests that Gamestate may be testing the waters for a new approach – namely that of an arcade primarily consisting of games you play for their content, not for how many tickets they give you.
Of course, I don't have access to Gamestate's financials. But having been at their Eindhoven location on two separate days, and seeing the DDR being one of their busiest machines (despite it being on 2€ a credit!), it seems like they're not going to regret their choice. Who knows, we might even see DDR Ace popping up at other locations if things go well.