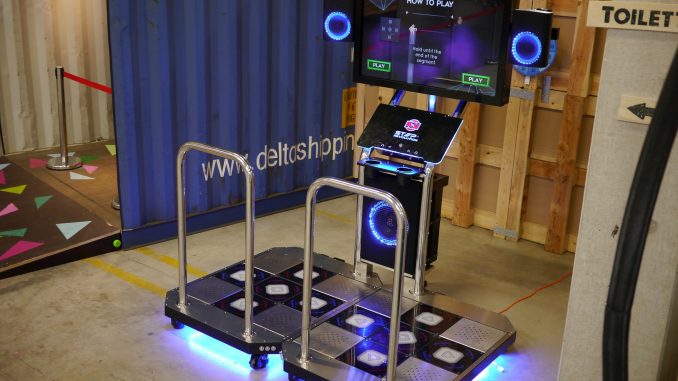 This weekend, Step Revolution's newest game, StepmaniaX, started its first locationtest on European soil! The most exciting part: It's in a small city about 30 minutes away from where I live, so of course, I decided to check it out.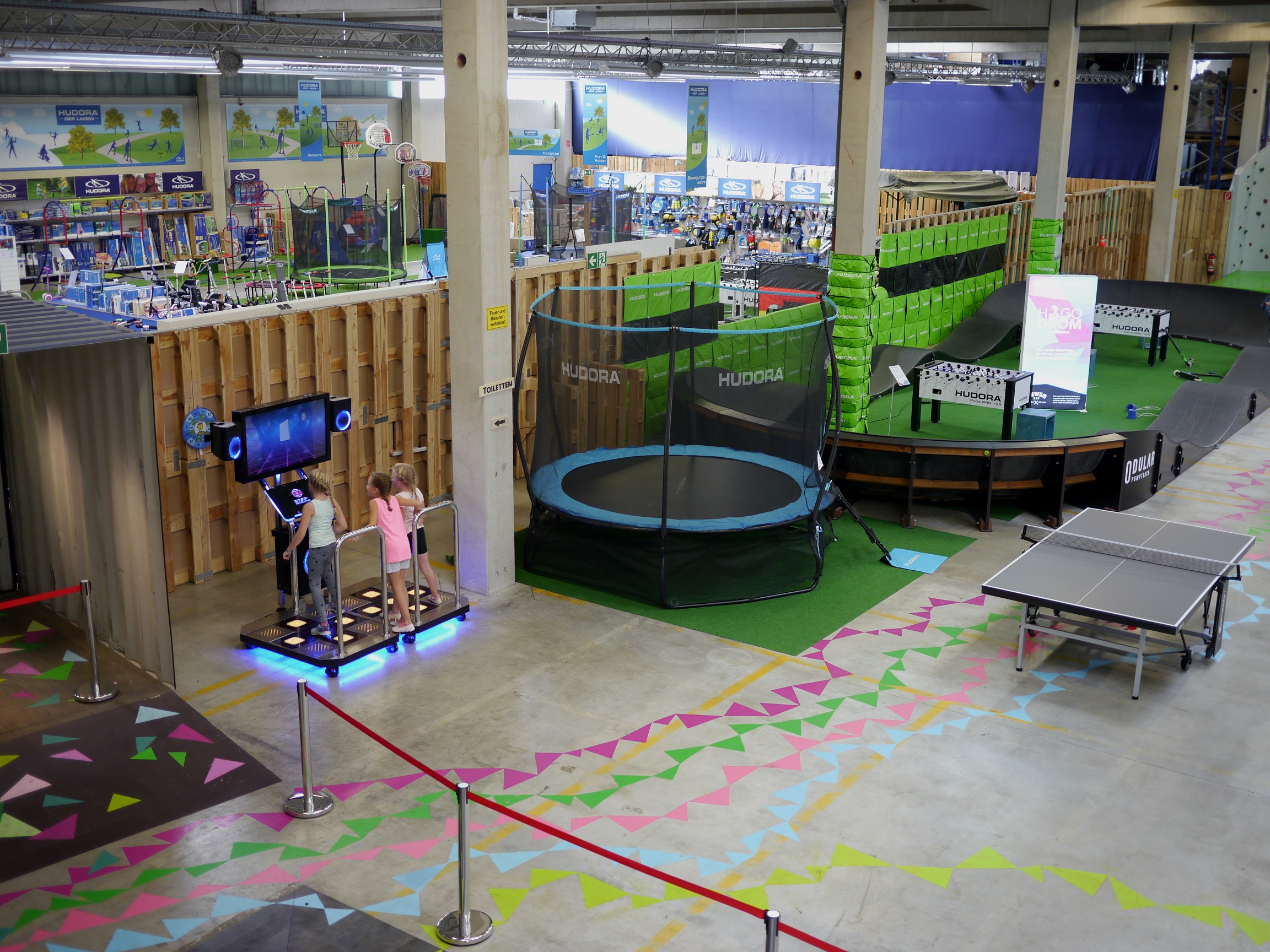 The machine is located at the indoor entertainment park Hugodrom, run by the local sports and leisure equipment manifacturer HUDORA. Besides the StepmaniaX machine, there's also a skating park, scooter track, as well as various fun little contraptions like a couple of trampolines, pingpong and football tables.
On the first day of the locationtest, it was unusually sunny outside, so the location was quite empty, yet the few people that were there seemed to magically be drawn to the dance machine. During the time we were there, from about 2 to 6PM, it went unused for about 20 minutes in total – in other words, it was insanely popular. Especially the kids seemed to want to try every single song on it, and one of them even cleared a 10 at the end of the day (which is about equal to a modern DDR 7).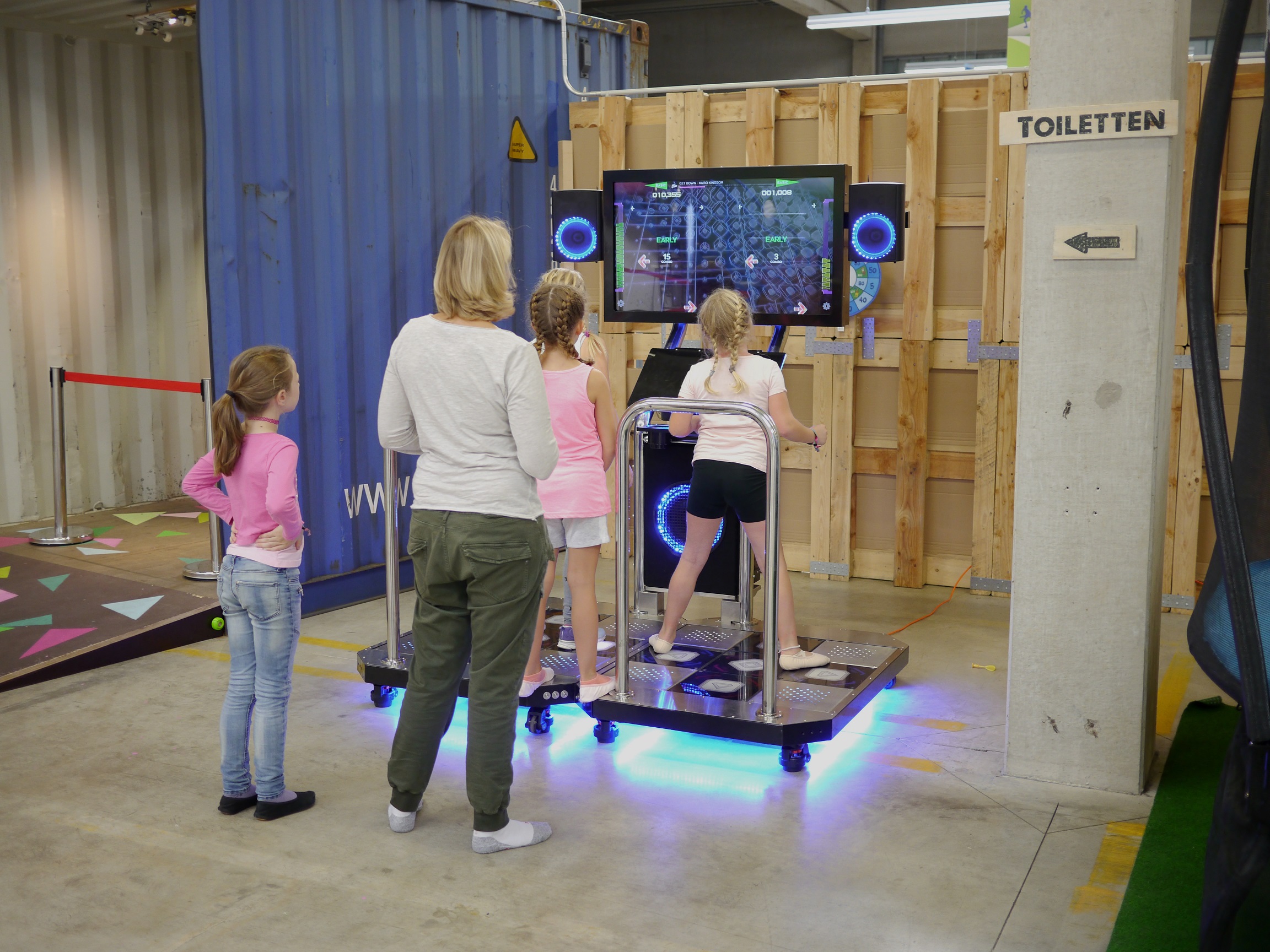 Of course, I decided to give the game a try myself. Now, I'm not really great when it comes do dance games, but I did notice very quickly that I liked StepmaniaX more than I thought I would. With the name it has, it seems like little more than a Stepmania skin put onto a glorified home cabinet, but indeed, it feels almost nothing like playing Stepmania at home, and like a real arcade game in almost every way. The pads (from what I could tell) were 100% responsive and nice to play on, and the lighting on both the cab and the pads was actually quite impressive. There's a lot of nice little things that went into the cabinet that really add to the experience, like the pads flashing in different patterns after clearing a song, depending on how well you did, or the announcer asking you how crazy you are if you play a song on Hard (but come on, StepmaniaX 14s are basically DDR 11s…)
Nonetheless, I enjoyed playing StepmaniaX much more than I thought I would, especially considering my past disappointment with the ReRave cabinet. That said, there are some downsides as well. For one, the cabinet does not have a coin slot, as StepRevolution wants to market it primarily to entertainment and fitness centers, somewhat limiting its application. Secondly, the sound quality of the speakers isn't as good as on other dance machines like PIU or the new DDRs, although that's to be expected, considering StepmaniaX is about half their retail price. Finally, the screen and especially the speakers started wobbling a little once I got into 14s and 15s. Now, this wasn't a problem for me, since I'm no hardcore dancer, but I could see this becoming an issue once you're starting to tackle higher-level songs, requiring both more movement and more precision, which might be jeopardized by the cab's jiggle physics.
All in all, I believe StepmaniaX makes for a good and fun entry into dance games, especially at locations like this one. The touchscreen interface is incredibly easy to get into, even for little german kids who can't read English, and the cabinet itself is quickly set up and easy to maintain yourself – it runs on a small android box, basically. If this takes off in German indoor parks, it could really pave the way for other rhythm games in the same venues as well – after all, the machine was already in constant use even during a relatively slow day, and I could very well imagine lines forming on the more busy ones.
The location test is scheduled to run until November 11th, so if you live in the area, be sure to give it a try! You can find the location details here. Entry is free for everyone over 18, and drinks are quite cheap at 2 – 3€.