Directly bordering the german town of Aachen, the Gamestate Arcade in Kerkrade is the most convenient choice for all gamers living in close proximity of the "3-state-corner", as the intersection of Belgium, Germany and the Netherlands is often called. As part of a big complex that also houses a cinema, as well as a unique indoor minigolf course, Gamestate has the best conditions to provide an amazing atmosphere for gamers, young and old alike. But what does the underground arcade really offer?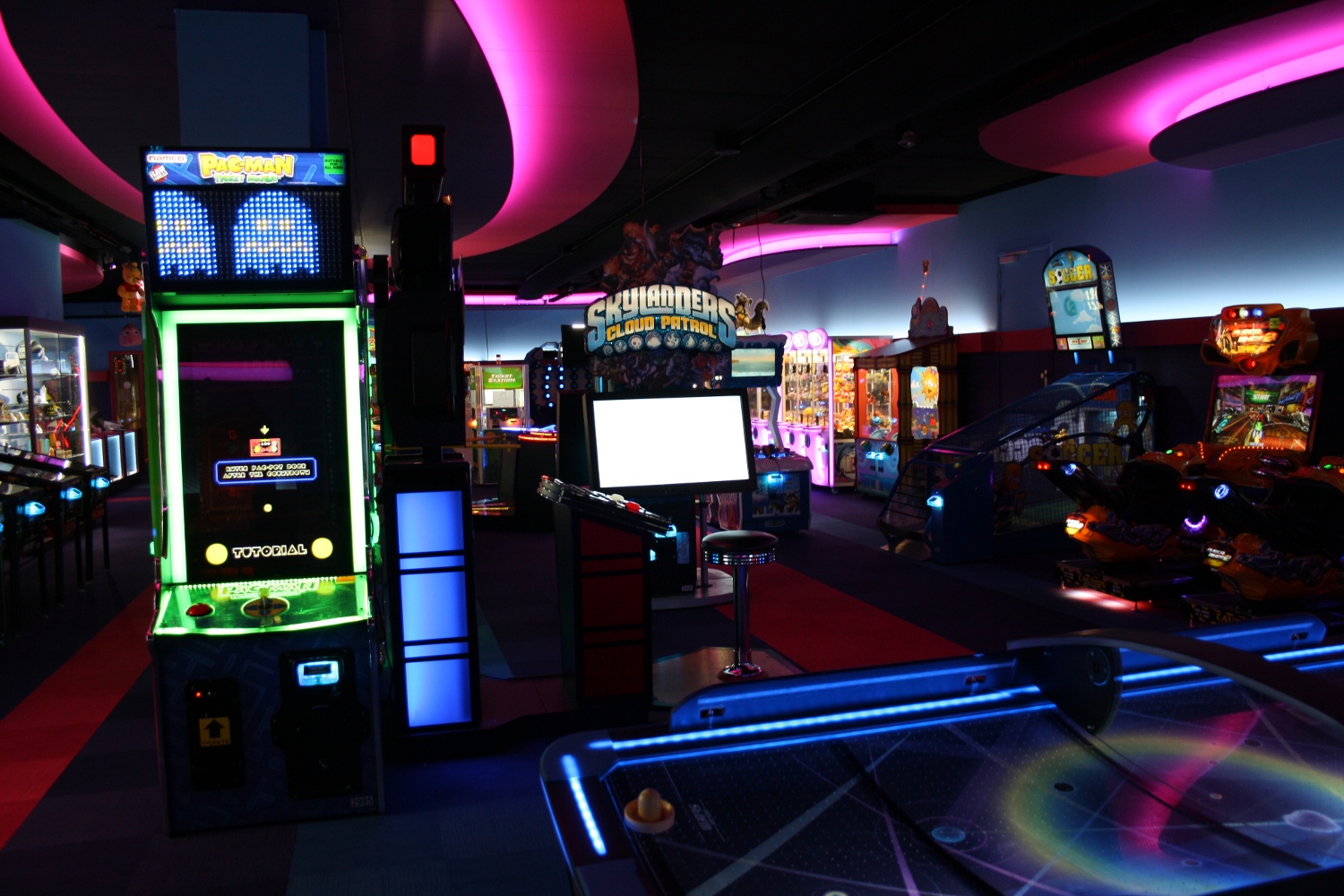 The Arcade
As silly as it might sound, Gamestate is hard to come by on purpose the first time you try to find it. Since it's part of a giant building complex right next to a football stadium, where every other venue is well-advertised and brightly lit, you'd expect the guys from the only arcade in southern Netherlands to do the same – but it's not quite like that. With a giant 3-storey cinema above it, the arcade (together with the bowling alley and the "Glowgolf" course) is tucked away in the basement, only reachable through a tiny side entrance on the outside, about 200 meters away from the main entry to the cinema itself. However, the ones who do find their way downstairs are in for a more than pleasant surprise.
The feeling you get when you step into Gamestate is… overwhelming, to say the least. Even before you make your way inside, you can feel this place has been planned from the ground up for one single purpose – arcade machines. A light, blue glow, that dominates the entire venue makes it stand out from everything else on the basement level, and immediately draws the looks of most people coming downstairs. It's probably the most well-designed arcade I've ever seen in Europe, and definitely the closest "real" arcade for anyone in western Germany and eastern Belgium.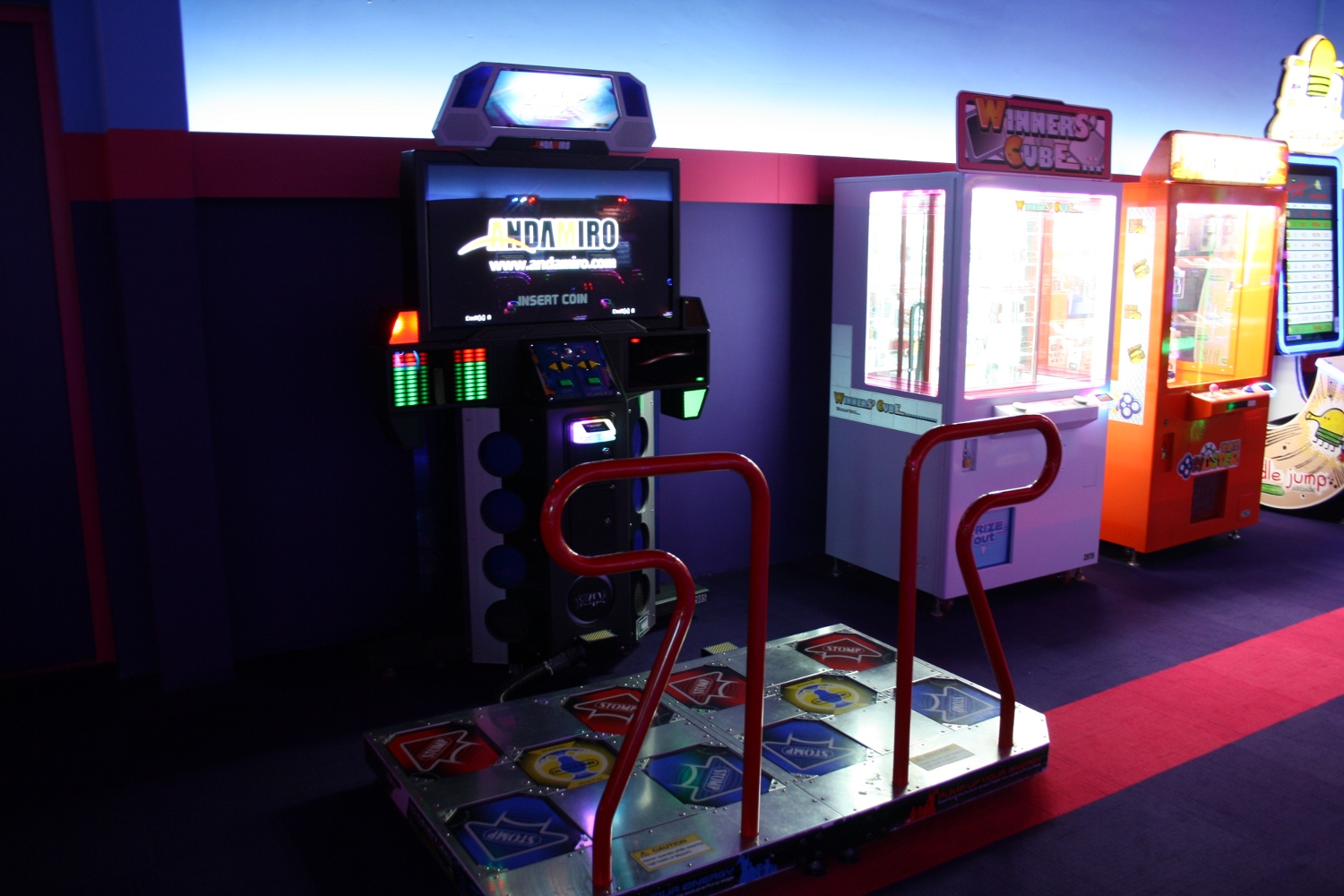 The Games
Gamestate has some amazing games, some of which are the newest versions available on the market. Besides the mandatory coin pushers and flipper machines, they've also got plenty of racing simulators, as well as rail shooters – notable mentions include Typhoon, SnoCross, and a Fruit Ninja arcade machine (something I didn't expect to ever see). Sadly, all of this suffers from a major flaw – every machine, whether it was supposed to or not, has been turned into a redemption game via the installation of small card terminals where the coin slots used to be. This means that gamers have to buy a fixed-price redemption card that allows them to play for either 5, 10, 15, or 20 rounds, saves their scores, and can, at the end, be turned in in exchange for prizes. While this isn't necessarily a bad system to adapt, it makes the arcade less accessible to one-time customers, pretty much forcing them to spend at least 5€ per visit. It's also a bit disheartening to see machines like Pump It Up Pro (wrongly advertised on their site as a DDR X) and Z be retrofitted with a card system and essentially be turned from arcades into redemption machines.
Another slightly negative point is the fact that Gamestate seems to focus mainly on arcade adaptions of already popular games – in short, they aren't taking any risks (then again, which european arcade can afford that nowadays?), so their lineup might seem very bleak and uninteresting to seasoned arcadegoers. The only music game they have is an old Pump It Up Pro whose pads have already seen better days. It's not unplayable by any means, but the time put into maintainance clearly isn't the same for all machines.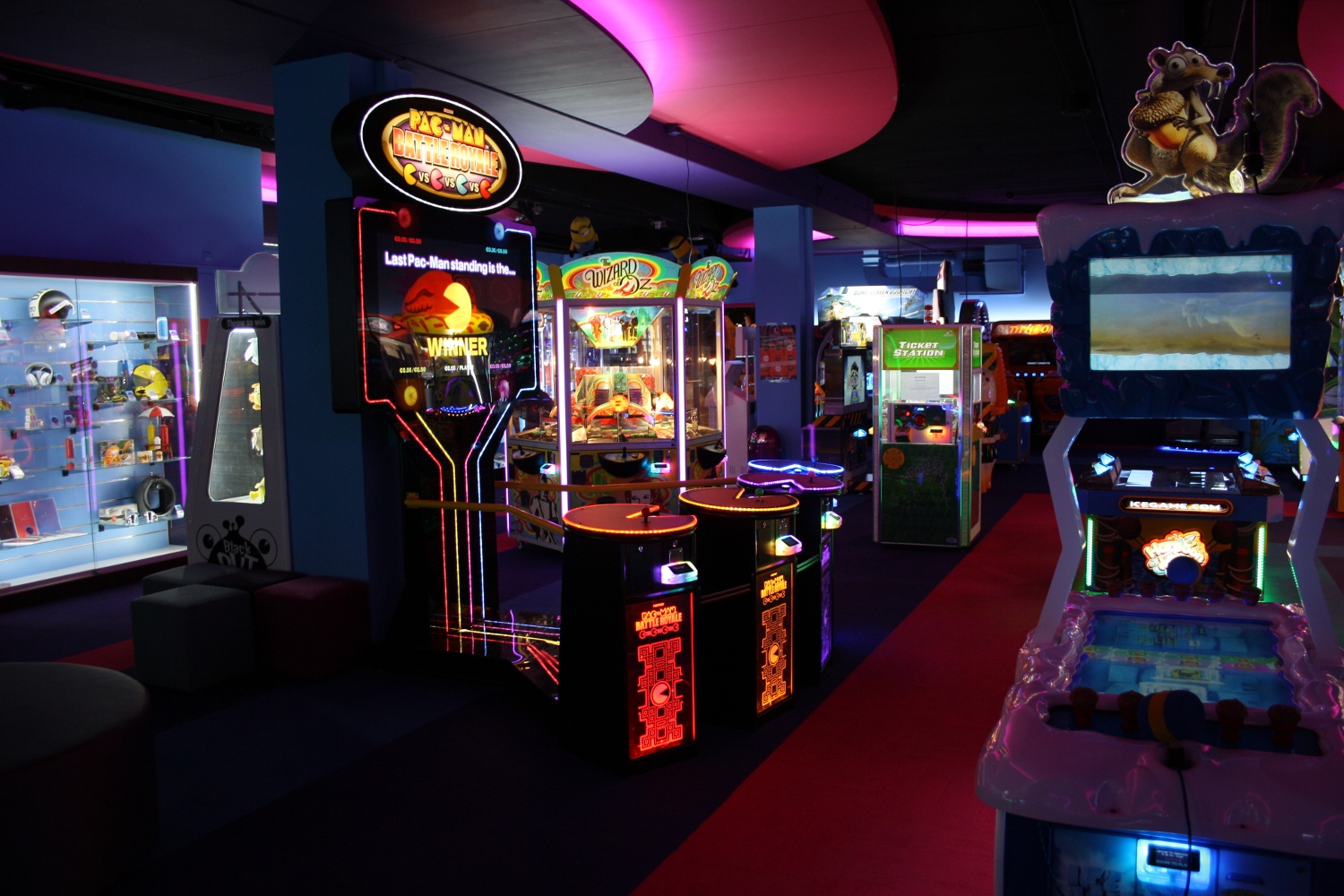 The other stuff
The staff at Gamestate Kerkrade seemed very friendly and told me a lot about the place and its history. Opened in the summer of 2013, Gamestate is part of a rebuilding project of the nearby Kerkrade Stadium, which was reopened in the previous year after longlasting repairs. Its close proximity to both Germany and Belgium makes it an interesting location for day-trips, especially since the stadium has late-night shows almost daily (and sometimes, it's even used for sports!). Most of their customers are, as to be expected, one-timers who play a few quick games at the most popular machines after having spent the evening either at the bowling lounge or the indoor minigolf park. There's no real "community" to speak of, although they do have a few regulars both on the racing and the sports simulators.
Despite there being a bar, it's only used for redemption purposes, and there are no snacks or drinks there to purchase. There's two small candy vending machines near the entrance, however, which ironically are the only things that accept coins in the arcade. Apparently, it's also possible to book group visits where each player gets a timecard instead of one that allows for only a limited amount of games, but I didn't really look into that, since I don't have 5 or more friends willing to go there with me.
Conclusion
After all that, what can be said about the state of games?
It certainly has declined over the last few- oh, wait, wrong review.
Yeah, umm, about Gamestate? It's alright. If you like playing the newest and most popular games (as in, literally 50% of the machines there are arcade adaptions of smartphone games) on arcade machines in an environment that actually feels like a real arcade, Gamestate is definitely something you should check out. Don't go there looking for anything specific though – chances are, you won't find it, since the only thing Gamestate is specializing in seems to be, as said, smartphone games. Also, don't expect to find regulars or even a community in there. Gamestate is, for all intents and purposes, an arcade designed to make money first and foremost. This is also the reason why all games have been turned into redemption machines and mainstream games have the clear upper hand – it's a "modern" arcade, and so far, it seems to be running pretty well with that strategy.